Thermal Inspection
Services
Infrared thermal imaging technology allows us to quickly detect water and moisture behind the walls of your property which could be hazardous. We use this advanced water detection tool for a variety of inspection purposes, from pinpointing the source of leaks inside buildings to performing routine maintenance to ensure that there are no hidden problems.
From single-family homes to high-rise condominiums, hotels to industrial office buildings, our powerful technology allows us to read temperature differentials in any situation. These differences in temperature can show us small problems before they get out of hand, or help us identify the source of more serious water damage. And because this technology is non-invasive, it doesn't require any disruption to your business's operations or your home's comfort.
How Thermal Inspection Benefits Property Owners
Choosing a company with the most advanced thermal inspection cameras at their disposal means you get the highest peace of mind.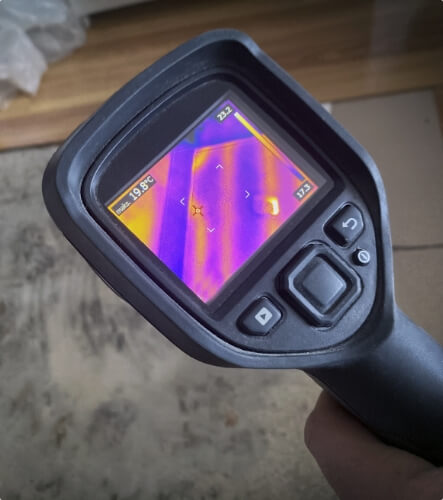 All of our team members carry thermal imaging cameras, moisture detection devices, and their years of IICRC training with them in the field to accurately identify and diagnose any level of moisture in the interior of your property.
Not only does this equipment help us identify problems and prevent costly repairs—it also helps us bolster your insurance claim. If you have a water damage insurance claim, you should only use a restoration company with thermal imaging technology to support your claim. This important evidence could mean a significant difference in your reimbursement and compensation.
Explore Other Water Damage Services
If water is detected on your property, we can remove it as fast as possible to prevent further damage.
Any level of moisture in your building's materials can create the perfect environment for rot and mold growth. Structural drying is your shield against structural damage.
Excess water vapor in the air can pose a threat to building materials, furniture, and even plumbing. As part of our water remediation process, dehumidification is key.
Thermal Imaging
FAQs
Can ASDT Detect Leaks on My Property?
Our team can detect leaks INSIDE of any home or commercial building, but we do NOT provide thermal imaging services for any outdoor applications. If the leak is not within the walls, floors, or ceiling of your property, it's best to call a plumbing service to assist you with your project.
Can Thermal Cameras See Through Metal or Glass?
Yes! Our cameras are sophisticated enough to detect even the smallest temperature differentials in a building's structure. We have used this technology to uncover serious problems that were hiding behind metal roofing, electrical panels, and other materials that obscure more obvious signs of water intrusion. If you are interested in a building inspection for water damage, call ASDT today.
Should I Have My New Construction Inspected for Water Leaks?
New construction buildings, especially hotels and high-rise apartment or condominium buildings, are far more prone to leaks and water damage than established buildings. Having your new construction inspected early—especially before grand openings or move-in days—can prevent catastrophic property losses and work stoppages due to leaks. Call ASDT for a thermal imaging inspection today to safeguard your revenue, insurance premiums, and more.