Industrial Damage Cleanup
& Recovery Services in

Brentwood, TN and Near You.

It's incredible how much a seemingly small thing like a burst pipe or thunderstorm can completely halt all production in a single warehouse. Industrial facilities have millions of dollars of inventory, sophisticated machinery, specialized technology, and infrastructure to take stock of after a disaster. Not just any restoration contractor has the capability of assessing, remediating, and reversing damage on this scale.

When industrial business is threatened, it's important to find a company that only uses highly trained, licensed, and insured technicians to execute a fully integrated disaster relief solution. ASDT does that work, including negotiating with insurance to make sure the job is completed quickly, effectively, and correctly.
What We Do For Industrial Facilities & How We Do It
Our remediation and restoration process begins with a full structural and asset damage assessment and taking control of the water, fire, smoke, or mold situation.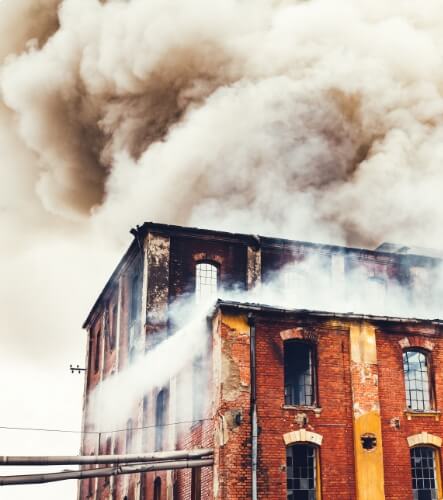 We set up any necessary temporary structure protections, then thoroughly evaluate all manufacturing equipment, industrial systems, HVAC units, air ducts, offices, and workstations for hidden damage.
At ASDT, we understand that if your machines aren't running, you're losing money. We'll be there to help you meet your production goals and lead times with as much business continuity as possible. Our team also has years of experience helping businesses decide whether their machines and other specialized equipment can be repaired and decontaminated, or whether it needs to be replaced.
Explore Our Full Suite of Damage Recovery Services
The last thing manufacturers need is for their expensive machinery to sit in corrosive water. We'll arrive on-scene quickly with powerful extraction equipment to minimize damage.
ASDT ensures that damage won't be permanently embedded in your facility by using nontoxic and nonflammable methods to remove soot and char from fire-damaged structures.
Remove mold from any warehouse or facility without damaging sensitive equipment or substrate materials such as PVC, ductwork, wiring, or wood.
Industrial Damage Recovery
FAQs
Why Should Manufacturers Call ASDT for Disaster Recovery?
Unplanned downtime in manufacturing plants can literally cost hundreds of dollars per minute or more. At ASDT, we have business continuity in mind at all times, and will begin work with the most crucial areas to either keep you in business or keep downtime at the absolute minimum. We also have experience dealing with heavy machinery and other expensive equipment that requires an expert eye to handle properly in catastrophic damage situations.
What Kinds of Disasters Threaten Industrial Companies?
Production facilities, data centers, chemical storage plants, and so many other industrial facilities take plenty of precautions to mitigate damage from natural disasters, power outages, and other major catastrophes. However, even something as seemingly mild as a leaking air conditioner or overheated server room can quickly lead to water, fire, or mold damage. To inspect for hidden leaks or sources of mold, call ASDT for a thorough inspection.
Does ASDT Help Manufacturing Companies Report Losses to Insurance?
Absolutely. Your commercial property insurance should be there to protect your company's important assets from disasters like natural disasters, burst pipes, fires, and biohazards, but making a claim is a complex process that even seasoned industrial professionals often aren't ready to handle alone. After a disaster, you should be able to focus on running operations—ASDT will help you navigate the claims process with a full damage assessment, inventory list, expert analysis, and help in preparing your presentation strategy.