Damage Remediation
& Restoration Service for Hotels
Hotels are especially subject to natural damage from leaking pipes, flooding, fire, smoke, and mold. These situations are especially risky when guests spend so much time in a single room. The dangers of guests breathing in harmful particles while they sleep or weathering a natural disaster that damages the structure are severe. This is why it's so important to act quickly and effectively with licensed and certified disaster recovery specialists before or after an emergency occurs.
Even when damage is minor, unforeseen events like a water leak or damage from a guest smoking in their room threaten the normal operation of your business. Business continuity is ASDT's top priority. We get you back to business fast so you can focus on providing your guests the comfort they deserve.
What We Do For Hotels & How We Do It
Our disaster recovery process begins with taking a full assessment of the damage on your property and taking all necessary measures to take control of the situation.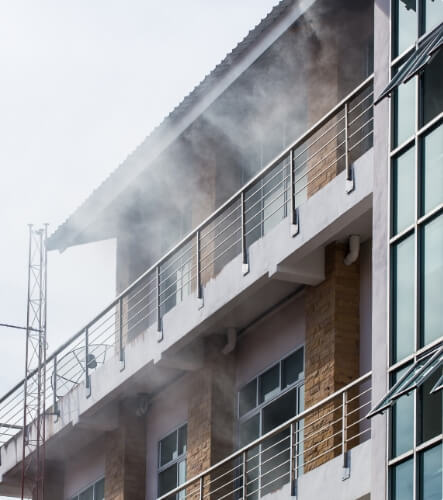 We set up any necessary temporary structure protections, then thoroughly evaluate all floors, rooms, amenities, and administrative areas for structural damage. We also have a suite of disinfection services to help protect your guests from harmful bacteria, allergens, and viruses, including COVID-19.
Using advanced thermal imaging technology, we also provide preventative and diagnostic inspections for water damage in hotels. With these sophisticated infrared cameras, we can discover hidden leaks, track down the source of suspicious odors and water spots, and help you ensure that small problems don't quickly turn into major issues.
Explore Our Full Suite of Damage Recovery Services
Demolition is the last thing any hotel operator wants to face in a water damage situation. The ASDT technical team uses proven drying techniques, the best equipment, and powerful desiccant dehumidifiers to dry structures nondestructively.
The risks of contact with hazardous residues after a fire are high on every hotel floor. ASDT uses nontoxic and nonflammable methods to remove soot, char, and odors from fire-damaged structures.
Providing safe and pleasant air for your guests to breathe is your top priority—and ours. ASDT has powerful antimicrobial solutions to stop the spread of COVID-19 and other viruses, bacteria, & pathogens.
Hotel Damage Recovery
FAQs
Why Should Hotels Call ASDT for Hotel Fire Damage?
In a building with hundreds of guest restrooms, kitchens, janitorial areas, and commercial-sized HVAC systems, you need to be sure every part of the hotel is free of dangerous gasses and soot. That's why fire and related hazardous effects require more service expertise & powerful equipment than an ordinary contractor. ASDT evaluates your site before work begins, inspecting and testing the soot and residues left by the fire, stabilizing damaged areas, and taking all necessary precautions and preventative measures to keep everyone on-site safe.
Does ASDT Provide Smoke Damage Services for Hotels?
Yes! Smoke can give off harmful carcinogens and chemicals that, though silent and often unseen, can be tremendously dangerous for your staff's and guests' health. Soot, on the other hand, is acidic, a byproduct of incomplete combustion that is extremely hazardous to health and can cause further damage if not soon removed after a fire.
We take care of the fire damage and its impact on carpets, walls, upholstery, ceilings, HVAC units, and air ducts to prevent harmful gasses from spreading throughout the building.
Why Should Hotels Call ASDT for Water Damage?
Our team uses Phoenix equipment, the leading manufacturer of world-class extraction, dehumidification, air scrubbing, and evaporative drying equipment for water restoration professionals. Combined with the expertise of our highly trained technicians who have been with ASDT for years, we can get your hotel dry, safe, and clean in much less time than our competitors. That means you can get back to providing a safe place for your guests to rest their heads in no time at all.