Mold Licensing &
Expert Remediation Services Near You.
By all accounts, mold is a threat to public and private health. Wherever it grows—and it can grow wherever—it needs to be handled in a respectful, safe, and comprehensive manner. In order to ensure the quality of our mold inspection, testing, and remediation services, ASDT demands the highest level of official training for our mold experts. This involves a standardized mold license which some, but not all, states mandate for mold remediation companies.
After 40 years of service, ASDT knows how complex mold remediation can be. That's why we insist on thorough, structured education and expert training for our mold remediation professionals. If you suspect mold, or have experienced a recent fire, storm, or water damage in your home or business, don't just call any mold remediation contractor. Trust the pros with all applicable mold licenses by calling ASDT today at (615) 207-3877.
No Half Measures for Mold Remediation
Mold isn't just a mild inconvenience in your home or business—it's a danger to your health, your family's health, and the health of your employees and customers.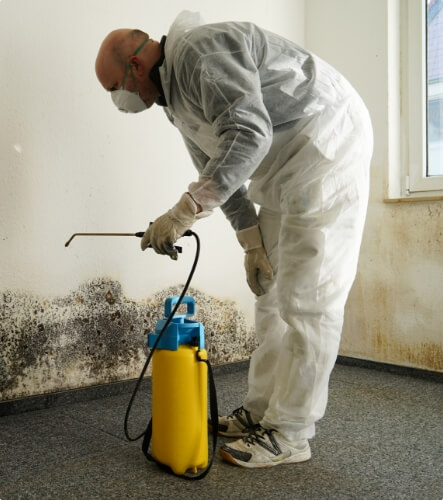 Because mold can be so dangerous, it's vital that you choose a mold remediation company with the utmost training. Like the states themselves, not all companies require licensing. But at ASDT, we stop at nothing to give our professionals every advantage in the fight against harmful molds.
Mold can grow in as little as 24 hours and spread throughout a property in as little as 48-72 hours. We'll test every interior surface and utilize the most advanced mold detection equipment to scan the interiors of walls, floors, and ceilings. We can even take baseline readings around your property to determine the likelihood of mold migration from the outside in. Let us put our mold licensing education through its paces by searching for and solving mold on your property.
Explore Other Mold Services
With just one call, licensed ASDT mold professionals can arrive at your home or business for a free assessment. Once we determine the presence of mold, testing and remediation can begin.
Like mold, the sources of water damage can be difficult to spot. Before you rip out walls, ceilings, or floors, let us use cutting-edge infrared tech to locate your leak.
Mold loves moisture, standing water, and wet wood. If you've suffered fire damage, water damage, or storm damage, structural drying is a necessary step to making you whole again.
Mold Licensing & Mold Remediation
FAQs
Which States Require Mold Licensing?
Unfortunately, few US states require mold licensing at present. Only New York, Florida, Texas, Louisiana, and the District of Columbia mandate the highest level of mold licensing. Other states, such as Tennesee, may require other specialty licenses.
Elsewhere, laws governing the quality and necessary training for mold remediation services may have been passed, repealed, or nonexistent. If you suspect mold in your home or business, trust the pros with the highest level of mold licensing.
Why Is Mold Licensing Important?
Mold licenses are held by individuals, not companies. These individuals endure rigorous training in the detection, inspection, testing, and removal of mold. Removing mold is especially dangerous for untrained personnel. If they're not careful, the mold can spread through the air to other parts of the building, and so-called successful remediation efforts may fail.
For guaranteed success and utmost safety, licensed professionals are preferred over their "certified" counterparts, especially when the safety of your family or the continued operation of your business is concerned.
Are Licensed Mold Remediation Services More Expensive?
Licensed mold professionals charge slightly higher rates than unlicensed or simply "certified" professionals. Even so, by investing slightly more for a licensed inspection or remediation pro, you're likely saving money down the line.
If mold remediation efforts fail on the first pass, your structure could be at severe risk. At a minimum, you may have to pay for more extensive work later or pay for a second inspection from a licensed professional after all. Get harmful mold taken care of the right way the first time around with ASDT.