Professional Disinfection
Services
When flooding, fire, or mold threatens the safety of your home or business, the most immediate response is to call a professional damage restoration company. You may not be thinking about your air quality at this moment, but you should hire professionals who will. Water damage events can be a perfect storm of mold, mildew, and other airborne contaminants without the proper training, identification, and disinfection services in place.
ASDT is licensed, bonded, and insured to provide disinfection services both in the event of water damage and exposure to the COVID-19 virus in commercial settings. We use the latest technology and CDC-approved disinfectants to ensure that the air in your property is safe to breathe day-in and day-out. To reduce the risk of infection or the spread of mold, call our experts today.
Our Disinfection Process
As part of our water damage remediation process, we have powerful air scrubbers at our disposal to remove dangerous particles from the air.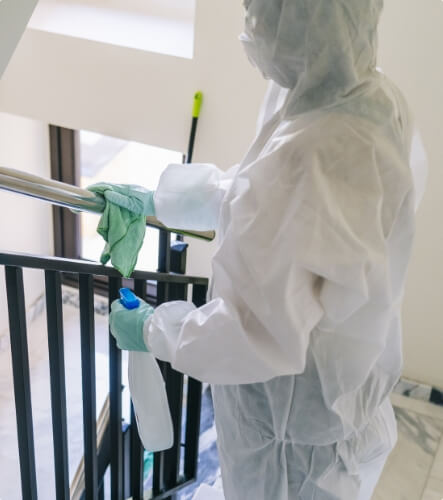 These machines are especially important when damage is caused by water that contains toxins or biohazards, as they filter the smallest impurities and vent out clean air. We also provide HVAC duct cleaning to ensure safe indoor air quality. After cleaning is complete, we use commercial-grade disinfectants, anti-microbial solutions, and antifungal applications to prevent the growth of bacteria and mold.
If you are concerned about the impact of COVID-19 inside your hotel, condominium, or other commercial property, ASDT's certified technicians can limit the survival of the virus. Our tools include eco-friendly botanical disinfectants, ozone generators, and ULV Fog. Before choosing a solution, we'll take a full assessment of your site and discuss your options with you.
Explore Other Water Damage Services
If you have hazardous category 2 (gray) or category 3 (black) water contaminating your property, call the experts who can handle it safely.
Mold is one of the biggest health concerns you'll face after a water damage event. Our team is fully licensed to inspect and disinfect affected areas.
To give your property the best chance of recovery before mold and mildew can set in, remove all water from your property as quickly as possible.
Disinfection Service
FAQs
What is the Difference Between Sanitizing and Disinfecting to Protect Against COVID-19?
Sanitizing a surface means reducing the number of bacteria on that surface to a safe level; products that sanitize, however, are not typically intended to kill viruses or completely eliminate microorganisms. Disinfectants kill both viruses and bacteria on surfaces, making them a more comprehensive choice. For hotels, retail stores, and industrial applications, especially in high-touch areas, a professional disinfection service is recommended.
Why is Disinfection Important in a Water Damage Situation?
Research finds that the risk of exposure to toxins, fungal spores, pathogens, parasites, and chemicals is significantly elevated in flooded buildings. The presence of water in any building material sets the stage for mold and mildew growth, as well as the release of toxic chemicals, heavy metals, and pesticides. ASDT's air scrubbers filter out these dangerous particles, and our disinfectant chemicals protect against continued microbial and bacterial growth.
What Do Ozone Treatments Do After a Flood?
Ozone generators are powerful odor eliminators as well as tools to kill mold, mildew, dust, and allergens after a flood. The machine generates ozone, a composition of three oxygen molecules, which attract and combine with spores in the air. Whether the water that flooded your property was clean or significantly polluted, ozone machines are another tool to help ensure the safest environment possible after a catastrophic flood, storm, or burst pipe event.