Contents Cleaning &
Fire Restoration Service in

Brentwood, TN.

At ASDT, we've witnessed the aftermath of too many fires. Thankfully, our decades of experience have taught us how to salvage some of the most important contents of your home or business. Fires are more than heat and flames. Soot and odors can compromise expensive furnishings, complex equipment, and heirlooms. Our experience has resulted in a proven process for saving as many of your home or business contents as possible.

While we're saving what can be saved, we're also starting the restoration process. Rebuilding a fire-damaged structure requires more knowledge and specialized equipment than most general contractors possess. As a fire damage restoration company, we also know how to work with your insurance provider to get you the funds you need to rebuild. If your home or business has experienced fire damage, don't wait. Call us today at 615.207.3877 for 24/7 emergency service.
Clean, Preserve, & Return to Life as You Know It
Your home or business is more than just the sum of its parts.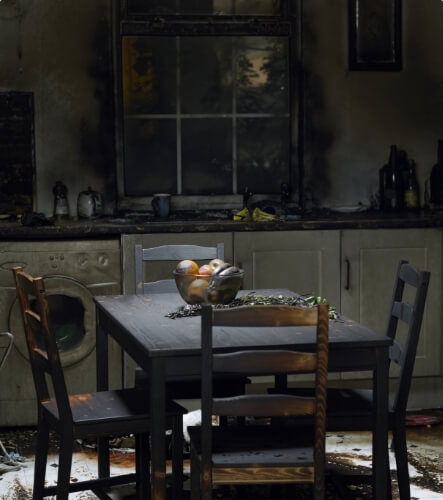 At ASDT, we can clean the contents of your building on-site. If the contents have sustained heavy soot damage, our team will carefully pack and inventory your belongings before transporting them to our specialized Content Care Center for ultrasonic cleaning using our Fire Line Cleaning System. We can even store your items for you until we've cleaned and restored your building.
After your belongings are saved and stored, and after the affected areas of your building are safe, clean, and dry, our crew starts the fire damage restoration and reconstruction process. This process can involve anything from controlled demolition to minor repairs, depending on the extent of the damage. With just one call to ASDT, you'll be saving as much of the inside and outside of your home or business as possible. We'll have you back to normal in no time.
Explore Other Contents Cleaning & Fire Restoration Services
At ASDT, we can help you deodorize your building and remove any harmful residue resulting from the damage. We also take immediate steps to keep your structure safe & upright.
Where there's water, there could be mold. In the aftermath of fire, mold is a serious concern. We can inspect and test for the presence of harmful molds for utmost safety.
Fire hoses put out fires, but they also soak your structure. Before restoration can begin, structural drying may be necessary to preserve your building.
Contents Cleaning & Fire Restoration Services
FAQs
What Items Can Be Saved After A Fire?
At ASDT, we've saved just about every item that could be saved. From expensive couches and designer rugs to computer towers, modular desks, and heirlooms, we've rescued it all from the ashes. Our content cleaning services are thorough and capable of tackling odors, singing, soot, and more. Unfortunately, there's a limit to how much damage we can reverse. If your contents have experienced mild to moderate fire or smoke damage, chances are good that we can save them for you.
How Is Contents Cleaning Performed?
At ASDT, our contents cleaning process has been honed from over 40 years of experience. Our methods are cutting edge and our content cleaning professionals have a trained eye for detail. We employ powerful deodorizers in our cleaners and shampoos to tackle tough odors in fabrics or cushions. We can also remove harmful chemical residue from your contents to ensure safety going forward. Our Fire Line Cleaning System uses ultrasonic technology to restore even the most delicate items safely.
How Long Does It Take To Start The Restoration Process?
Every fire is different and the extent of damage determines the ultimate timetable for the restoration process. Once the flames are extinguished, we'll preserve the structure as best we can and make it safe for work. After that, once the affected areas are safe, clean, and dry, we can give you a better idea of how long our restoration process may take.