Water Damage Dehumidification
Services
After a flood, storm damage, or extensive leak, your first priority is to remove all the water from your property. That includes excessive moisture in the air that can slow down the structural drying process and encourage mold growth. ASDT thoroughly understands the importance of this critical step in water damage remediation and restoration—and we have the tools to take it.
When you work with us, we use our extensive knowledge of drying processes and state-of-the-art remediation equipment to dehumidify your home or commercial property quickly. Then, we carefully monitor and control the humidity and temperature of the area, documenting any fluctuations and making adjustments as necessary to ensure that your property is free from harmful molds and mildews.
Our Dehumidification Process
Once we completely remove any standing or excess water from your property, we begin the process of structural drying, which happens in tandem with dehumidification.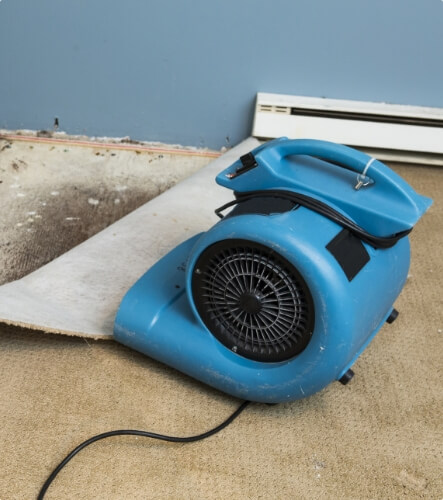 Dehumidification in fact speeds up the drying process by preventing the air from becoming overly saturated, facilitating evaporation. We understand the exact conditions needed to create the best environment for evaporation—and the least favorable for mold and mildew growth.
We have a variety of dehumidifiers at our disposal, from units that can tackle one room in a home to trailer-mounted desiccant dehumidifiers that can tackle high rises, factories, and other large commercial properties. Using thermo-hygrometers, we track both the temperature and relative humidity to determine how effectively the dehumidifiers are working, making adjustments where necessary.
Explore Other Water Damage Services
Water remediation begins with removing water as quickly and efficiently as possible. Call ASDT immediately to preserve your valuables and structural integrity.
Drying is about much more than passing time. With our masterful techniques and powerful equipment, we can ensure building materials dry with maximum safety.
After cleaning, disinfectants are used to prevent the growth of bacteria and mold, as well as prevent the spread of airborne viruses like COVID-19.
Dehumidification
FAQs
When Do I Need Professional Dehumidification Services?
Any time your home or property has experienced water damage, you need dehumidification services for comprehensive water remediation. However, there are other situations where dehumidification may be necessary also. These include visible mold or fungus growth, moisture on furniture or fittings, or even simply discomfort in a room due to high moisture content. Removing the moisture is critical to avoid further mold contamination, corrosion, and structural damage.
What Kind of Dehumidification Equipment Do I Need?
ASDT's professional crew will take a full assessment of the extent of damage and the size of your property to determine the right dehumidifier for your restoration needs. We use both desiccant and LGR (low-grade refrigerant) dehumidifiers, depending on your situation.
LGR units remove water vapor via condensation with ultra-high energy efficiency and are typically used in smaller spaces. Desiccant dehumidifiers use chemical attraction to remove water vapor and are perfect for large loss situations and industrial applications. Sometimes, we will use them side-by-side.
How Long Will It Take to Dry Out Water Damage?
The amount of time the drying process takes will depend on the extent of the damage, the size and type of your property, and the length of time before the water was removed. Calling ASDT immediately in the event of a flood or leak can help make the process go by as quickly as possible. We'll bring the most advanced tools, equipment, and techniques to get your property back to pre-loss condition in the least amount of time.