Damage
Cleanup Service for Office Buildings
Any amount of water, fire, or mold damage to an office building can have detrimental effects on a company's ability to do business. Not only does disaster damage impact the workplace's immediate environment—it also affects your outbound logistics with satellite locations, vendors, customers, and so much more. This is why it's crucial to contact an experienced restoration company rather than a budget contractor. Trust the highly trained, licensed, and insured professionals at ASDT.
When it comes to professional assistance, ASDT will do what needs to be done to guarantee what's most important for your business continuity: the health and safety of your employees and clients. Minimizing your downtime is a top priority, so we start with the tasks that will get your office back up and running as soon as possible while taking the highest safety precautions every step of the way.
What We Do For Office Buildings & How We Do It
Our remediation and restoration process begins with a full structural and asset damage assessment and taking control of the water, fire, smoke, or mold situation.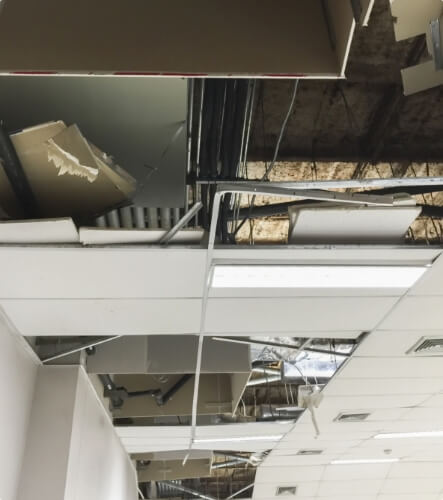 We set up any necessary temporary structure protections, then thoroughly evaluate all workspaces, cubicles, private offices, restrooms, shared spaces, and reception areas for hidden damage.
ASDT can guarantee excellent and immediate extraction and cleaning capabilities for any situation. That's all thanks to our professional crew and our partnership with Phoenix, the leading manufacturer of extraction, dehumidification, air scrubbing, and evaporative drying equipment in the industry. From beginning to end, we can guarantee safe structures, improved air quality, full disinfection, mold prevention, and more to give your employees and visitors peace of mind after a disaster.
Explore Our Full Suite of Damage Recovery Services
Through cutting-edge drying techniques and protocols, ASDT will verify your property is dried thoroughly with the least amount of destructive damage to the building's structure.
Every business needs to completely and safely restore their property back to working condition as soon as possible. Our goal is to take care of the full impact of fire and smoke damage immediately.
We're fully licensed and certified to perform mold remediation services for any size of workplace or business center, from small local offices to multi-tenant commercial buildings.
Office Damage Recovery
FAQs
What Are the Three Main Phases of Disaster Recovery?
All businesses should have a disaster recovery plan in place that takes into account assessment, remediation, and restoration. ASDT is an end-to-end disaster recovery company that can help businesses with all three phases and get back to normal operations quickly and safely. We take a full assessment when we arrive on site, immediately take steps to remediate the damage, and help you restore your office to its pre-damage state.
Can ASDT Help Disinfect Offices After COVID-19 Exposure?
Yes! Our disinfection services not only protect workplaces against mold and bacteria after fires and floods—they also help disinfect surfaces from viruses like the novel coronavirus. We use a variety of CDC-approved cleaning methods including ULV Fog, botanical antimicrobials, and germicides to help promote a safe return to work for all. If you have recently experienced a COVID-19 outbreak in your office and would like to help safeguard against further spread, call ASDT.
Does ASDT Help Businesses Report Losses to Insurance?
Absolutely. Your commercial property insurance should be there to protect your company's important assets from damage caused by natural disasters, burst pipes, fires, and biohazards, but making a claim is a maze-like process that even seasoned business professionals often aren't ready to handle alone. After a disaster, you should be able to focus on running operations—ASDT will help you navigate the claims process with a full damage assessment, inventory list, expert analysis, and help in preparing your presentation strategy.