Sewage Cleanup and
Waste Removal Service in

Brentwood, TN.

Rising stormwater and burst sewer pipes don't flood your property with perfectly clean water—in fact, this water is considered to be hazardous "blackwater." If you experience a burst sewage pipe, hurricane or tornado damage, or industrial flooding, contaminants, chemicals, heavy metals, and other hazardous wastes can double the threat of water damage. These substances can pose a serious health risk to you, your family, or your employees, which means you need a restoration company that makes your health and safety first priority.

At ASDT, our water damage cleanup experts rapidly remove contaminated water and use industry-leading technologies to thoroughly clean and disinfect your property. We understand that a sewage spill can be one of the most unpleasant and concerning situations a home or business owner may face. That's why we work quickly, safely, and thoroughly to completely remove all traces of the damage with all possible precautions in place.
Three Categories of Water Damage
ASDT is fully equipped to handle all three types of water damage as defined by the IICRC.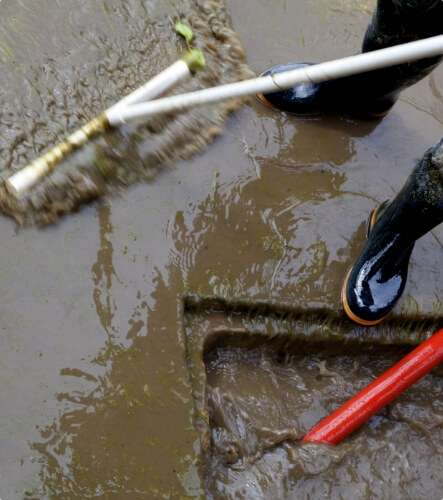 Category 1 water, or clearwater, poses the smallest threat of harm to people. Sources of category 1 water damage include water supply lines, rainwater, meltwater, and toilet tank water (as long as there are no contaminants). In these situations, building materials like wet drywall, hardwood flooring, and carpets can be dried and salvaged with no substantial health risks.
Category 2 water, or greywater, poses a threat to people's health and safety. Greywater is any wastewater that has been used for bathing or showering, washing, or laundering, including water from washing machines, dishwashers, showers, and sinks. This kind of water contains germs, chemicals, fats, oils, and bleaches that can rapidly become septic if left untreated.
Category 3 water, or blackwater, is the most serious category of water damage. Blackwater must be completely eliminated and all materials that came into contact with it must be removed and disinfected thoroughly. Any grossly contaminated water—water from toilets, urinals, sewer systems, or septic tanks—is considered blackwater.
Explore Other Remediation & Restoration Services
Learn more about how we use the latest technology to thoroughly disinfect and deodorize building materials, as well as slow the spread of COVID-19.
Mold is one of the biggest health concerns you'll face after a water damage event. Our team is fully licensed to inspect and treat affected areas.
Learn about our storm response services and storm preparedness programs so you'll know who to call in case of an emergency.
Sewage & Waste Cleanup
FAQs
What Do I Do if My Sewer is Backing Up?
If you're experiencing a severe backup and waste is flooding into your home, call ASDT's emergency line at 615-207-3877. Avoid all contact with the wastewater, and evacuate any children or pets. Call your utility company to shut off water and power to the affected area. If the backup is caused by a backed-up septic tank or clogged sewer line, a plumber will be required.
ASDT can handle the comprehensive removal, disinfection, drying, and cleanup phases of the issue, as well as assist with the insurance claims process. The faster you call us to clean up the sewage, the safer your property and the less extensive the damage.
Is Flood Water Toxic?
Yes—stormwater, including flooding due to hurricanes, tornadoes, and strong thunderstorms, is considered category 3 water. This is because as the water flows over soils, pavement, and drainage systems, it comes into contact with sewage, heavy metals, and other chemicals and pathogens. Do not attempt to clean flood water yourself. Instead, call the experts at ASDT.
Can I Clean Up Sewage Backup Myself?
Professional sewage backup cleanup is always recommended for the total health and safety of you, your family, or your employees. Professional help is absolutely necessary if the spill affects more than one location on your property, occurred more than 24 hours ago, is caused by sewer or septic tank backup, or your HVAC system has come into contact with the water (as this poses a cross-contamination risk).
Call ASDT
to get started as soon as possible.