Damage Remediation
& Restoration Services for Retail Locations
With some of the highest levels of foot traffic of any space open to the public, retail locations are at a higher-than-average risk from water, storm, mold, & fire damage. One flooded space can mean tens of thousands of dollars lost in revenue, and one storm can render a business unusable for months. That's why it's crucial to act quickly and effectively when fire or flooding affects your space.
ASDT is a full-service remediation company capable of taking on the most complex jobs from first response to the restoration of your business's contents and structure. You've worked tirelessly to build your business, pouring untold hours and hard-earned dollars into inventory, technology, equipment, and more. Don't trust just any group of freelance contractors to restore your property and work with the insurance companies—use the end-to-end specialists at ASDT for superior disaster restoration.
What We Do For Retail Spaces & How We Do It
Our disaster recovery process begins with taking a full assessment of the damage in your store and taking control of the water, fire, smoke, or mold situation.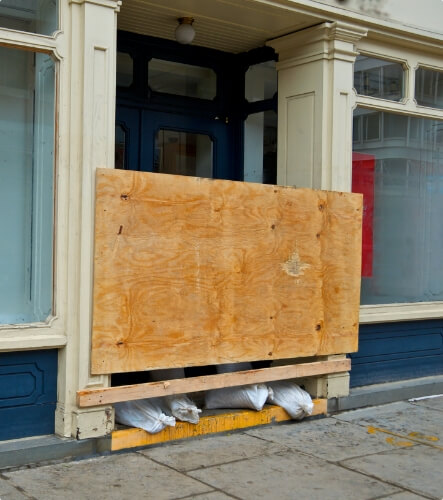 We set up any necessary temporary structural protections, then thoroughly evaluate all floors, departments, customer restrooms, escalators/elevators, and administrative offices for structural damage. We provide water removal, smoke and soot removal, leak detection, air scrubbing, deodorizing, and mold remediation services, plus much more.
We also provide contents cleaning and restoration to ensure that as much of your inventory as possible is salvaged. Our top priority is making sure that your property is restored with the least amount of destruction or interruption to your operations. We achieve this goal by putting scientifically advanced measures in place to dry, deodorize, and disinfect all surfaces, structures, and contents.
Explore Our Full Suite of Damage Recovery Services
No retailer wants to face the demolition of their storefront. That's why the ASDT technical team uses powerful drying techniques, air moving equipment, and desiccant dehumidifiers to dry most structures without destruction.
In some cases, your inventory can be saved! In many situations, we can clean everything from furniture to electronic devices with advanced cleaning technologies, either on-site or at our high-tech facility.
Mold has many places to hide in a retail space—and one spore can be enough to ruin a large swath of your investment. ASDT has a range of powerful germicides and anti-microbial agents to stop and prevent the spread of disease, bacteria, and fungi.
Retail Damage Recovery
FAQs
What Inventory Can Be Salvaged with Contents Cleaning?
Anything that could be salvaged in a home can be salvaged in a retail space: furniture, electronic devices, bedding, sporting goods, jewelry, clothing, and more. After a disaster, if the damage is minimal, we can clean these items on-site. If the contents have sustained heavy soot damage, our team can carefully pack, inventory, and transport them to our facility for cleaning. After cleaning, we store the items until the property has been fully cleaned and restored.
How is Retail Merchandise Handled After a Disaster?
ASDT's technical team personally inspects all of your inventory and assets to determine what can be salvaged, what can be reused, and what can be recycled. We're highly trained to assist you during the process of identifying what needs to be cleaned, put in storage, or disposed of. Don't leave money on the table during the damage recovery process—trust the experts at ASDT, who are always on your side to help you make the right decisions for your business.
Does ASDT Help Retailers Report Losses to Insurance?
Absolutely. Commercial property insurance is there to help protect your assets from disasters like floods, storms, burst pipes, fire, and smoke damage, but making a claim is an arduous process that business owners often aren't equipped to handle alone. After a disaster, you should be able to focus on your business—ASDT will help you navigate the claims process with a full damage assessment, inventory list, expert analysis, and presentation strategy preparation.