Post-Storm Temporary
Repair Services
It's not hard to imagine yourself among those scenes of carnage so often witnessed on TV. In the aftermath of storms, people search for belongings up debris-littered streets or turn over the wreckage in their businesses. After the worst has passed and you're safe and sound, your immediate thoughts turn to your property and the best next steps for preserving life as you knew it.
At ASDT, we've been on the ground with storm victims in Tennessee and throughout the Gulf Coast Region. We've helped New Yorkers dry off after once-in-a-century storms and traveled throughout the Midwest to assist in recovery. With over 40 years of experience, we know how to protect and preserve your property with post-storm temporary repairs to stop further damage. If you've experienced storm damage, wind damage, or water damage, don't wait. Call ASDT today at 615.207.3877 to preserve what remains of your home or business.
Get Back to Life & Business Faster with ASDT
Even a small hole in a residential or commercial roof could cause irreversible damage.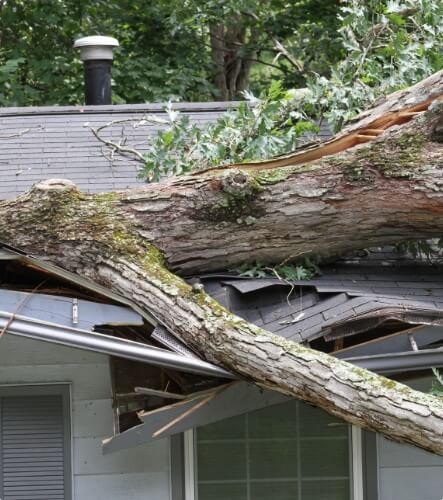 Sensitive equipment, precious belongings, and your ability to return to normal are at risk after a storm passes. At ASDT, we save as much of your property as possible. With just one phone call, we can be at your property creating a protective barrier around your building to prevent even greater damage.
After an initial damage assessment, ASDT emergency response teams will create a plan of action. We'll remove standing water to arrest mold and structural warping before cleaning up harmful sewage. Beyond that, we can secure tarps over exposed portions of your property, board up windows and doorways, and even start the process of collaborating with your insurance provider to get you the funds you need to rebuild.
With even one afternoon of delay, "damaged" buildings can quickly become "condemned" buildings. ASDT can help.
Explore Other Damage Restoration Services
Homes and businesses are more than just timber frames, wire, and carpet. We can rescue as many of your belongings as possible and save you further expense or grief.
Removing standing water is just one part in a complicated process of structural drying. To get back to life as you know it, ASDT can fully dry out your home for comfort & safety.
Dangerous sewage has a way of finding its way to the surface during flooding & storms. Cleaning it up yourself isn't an option. Let the pros remove sewage safely & quickly.
Post-Storm Temporary Repairs
FAQs
Why Are Post-Storm Temporary Repairs Important?
Beyond saving your belongings within your home or business, post-storm temporary repairs can literally save the structure itself. Once wet, many parts of your structure will need to be replaced entirely. The quicker you act, the more of your structure you save, reducing both the time and expense it takes to get back to your life.
Furthermore, mold is fast-growing, even during storms. Exposed walls, ceilings, attics, and basements can quickly host harmful molds when exposed to rain or flood waters. For your property and everything in it, post-storm temporary repairs are the best option in a bad situation.
What Happens After Post-Storm Temporary Repairs?
After your property has been protected from further damage, ASDT can stick around to walk you and your building through every step of the recovery process. As restoration professionals with over 40 years of experience, we know how to comprehensively bring your property back to a comfortable, livable, working condition.
After the storm passes, we'll remove standing water, dehumidify and dry your structure. We can employ thermal inspection to find unseen sources of water damage and remediate mold as needed. Then, we'll start the rebuilding process with the tools and know-how most general contractors lack. Trust ASDT to get you back on your feet once the storm passes.
How Can I Prepare Or Pre-Plan For A Storm?
At ASDT, we offer comprehensive storm preparedness plans to homeowners and businesses across the nation. With an Emergency Response Preparedness Plan in place, you can rest assured knowing that a qualified restoration contractor has advanced knowledge of every inch of your property—and has walked you through the necessary steps to take in case of an emergency. Prioritize your safety and business operations with ASDT.
Call for emergency post-storm repairs. Every minute you wait after the storm passes compounds the damage done to your home or business. Let us preserve what's left to give you a shorter and easier route toward recovery.