Advanced Structural Drying
Services
At ASDT, structural drying is quite literally our middle name. When catastrophic floods, unmitigated leaks, or other types of water damage infiltrate your property, our team is here to ensure that it's restored to a safe and dry condition as fast as possible. We use the latest technologies and science-based techniques to ensure that excess moisture in your home, business, or commercial property is thoroughly dried before it can cause further damage.
Our team has trained extensively to earn the trust and confidence of home and business owners in Tennessee and throughout the country. Many members of our crew have been with us long enough to obtain master-level IICRC certification—the highest designation possible in the industry—three times over. If you've experienced water damage, let us get you back to your regularly scheduled life.
Our Structural Drying Process
When you call ASDT, our crew will arrive ready to make a full assessment of the damage, combining our trained and experienced eyes with thermal imaging technology to discover any hidden water behind walls, floors, or ceilings.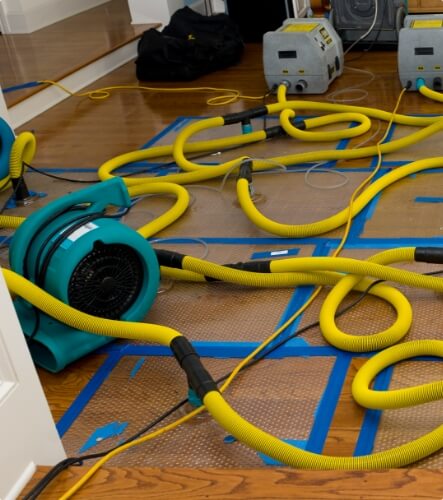 Our team can expertly assess the extent of water damage for any sized emergency at any sized property, from residential homes to five-star hotels, to high-rise condominiums and beyond.
After completely removing any excess standing water and inspecting for mold on surfaces, we begin the process of structural drying. Our arsenal of restoration equipment includes the most technologically advanced air movers, injection floor drying systems, and air scrubbers available. To prevent structural damage, we also use non-penetrating meters that measure the moisture levels between layers of wood, flooring, drywall, and more to ensure the job is done thoroughly.
Explore Other Water Damage Services
Every second counts when it comes to water damage. ASDT can remove any amount of water from a home, business, or commercial building quickly and safely.
Our powerful dehumidifiers help us speed up the structural drying process and prevent mold growth, protecting both materials and air quality.
Thermal imaging allows us to quickly detect leaks and moisture behind walls, ensuring no hidden moisture gets left behind.
Structural Drying
FAQs
What is Structural Drying?
Once water is removed from your property, it's important to also extract any trapped moisture in the building materials themselves, such as drywall, wood, carpets, and more. At ASDT, we do this by ensuring powerful air circulation that will evaporate the moisture before mold, mildew, or rot can set in. We thoroughly test surfaces for harmful contaminants before bringing in air movers to ensure that we don't cross-contaminate the area.
How Many Structural Drying Methods Are There?
In our industry, there are typically two options for structural drying: disruptive drying and aggressive drying. Disruptive drying involves cutting out materials like drywall, insulation, and baseboards to increase drying time, as well as materials that are beyond saving. Aggressive drying involves introducing warm, high-velocity air to dry materials in place without removing them.
Aggressive drying reduces the extent of repairs needed after remediation, but can only be performed if the water is removed in the first 48 to 72 hours. That's why fast action is imperative. Call ASDT at 615.207.3877 for emergency service!
Why Should I Call a Water Damage Drying Company?
At ASDT, we have decades of experience removing water, drying structures, maintaining temperature control, and documenting the remediation process from beginning to end. Our clients are our number one priority—not the insurance companies. Each project is personal for us, and we'll do everything in our power to get you back to normal with total confidence in your safety.