Mold Inspection &
Testing Services
Mold can be hard to find, identify, and remove—to put it lightly. Mold grows in the dark, behind walls, up timber framing, or high in attics, where it can spread before you ever see or smell the signs. At ASDT, we've found mold in the most unlikely places throughout our 40 years of mold remediation service. Thankfully, we know how to inspect for and find every trace of harmful molds in your home or business.
Mold can flourish under the worst of circumstances, but recent water damage, fire damage, or storm damage can contribute to rapid development in your home or business. Don't gamble with the health of your families or employees. Call ASDT today at (615) 207-3877 for a free mold inspection so that you can know for sure about the quality of the air you breathe.
We Analyze, Locate, Quarantine, & Treat Mold
At ASDT, we know that mold can grow in as little as 24 hours and spread throughout a property in 48-72 hours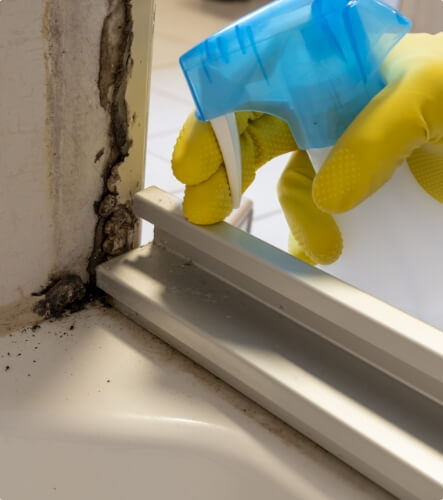 When you call ASDT for your mold inspection and testing, we'll immediately launch into action. First, we'll test every interior surface that we can access even if there is no sign of mold present. Our team utilizes the most advanced mold detection equipment, including moisture level meters, laser thermometers, and borescopes to scan the interiors of walls, floors, and ceilings.
After extensive indoor air quality testing, we take baseline readings of the property beyond the building. If we can identify unusually high concentrations of mold outside, chances are good that the same mold will make it inside your home or business. If mold is found, we'll subject it to IAQ/mold sampling, environmental assessments, and lab testing. If you've suffered recent fire, water, or storm damage, trust the professional mold remediation experts at ASDT.
Explore Other Mold Inspection & Testing Services
Standing water isn't the only contributing factor to mold. Moisture in the air can also encourage the rapid development and spread of mold throughout your home or business.
Like mold, the sources of water damage can be difficult to spot. Before you rip out walls, ceilings, or floors, let us use cutting-edge infrared tech to locate your leak.
Mold loves moisture, standing water, and wet wood. If you've suffered fire damage, water damage, or storm damage, structural drying is a necessary step to making you whole again.
Mold Inspection & Testing Services
FAQs
Will The Presence Of Mold Affect My Business?
The effects of mold on your business depend on numerous factors. Before worrying about next steps, let ASDT discreetly inspect your business for harmful molds. Our teams will complete initial air quality and mold identification testing before suggesting and implementing the appropriate remediation techniques for your particular situation.
What Can I Expect During A Mold Inspection?
First, our team will look for signs of mold growth and try to locate the source. Our team will climb into attics, crawlspaces, and anywhere that moisture can be accumulating and contributing to the spread of mold. Without water, there can not be mold, so once we determine the source of the moisture, we can begin the next phase: mold remediation.
Are All Molds Harmful?
Simply put, the presence of mold inside a home or business is bound to be harmful. Even if the mold itself is mostly nontoxic, the presence of moisture and spores can greatly affect those with respiratory difficulties, such as asthma and allergies. Mold and moisture also pose a serious and ongoing threat to the structure itself, compromising both safety and the investment you've made in your home or business. No molds are safe when they grow indoors.